Vintage Collectible Rare Swiss Men's Wristwatch Creation 17JGold Plated Watch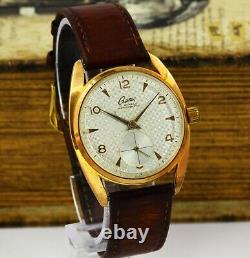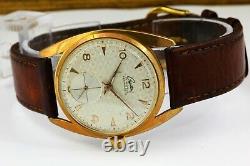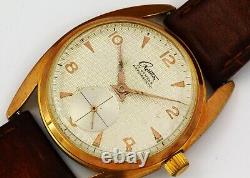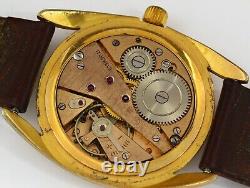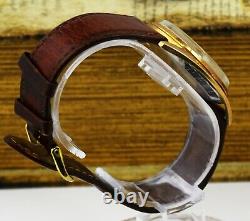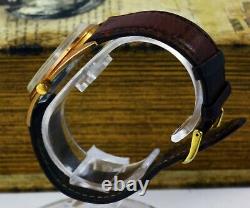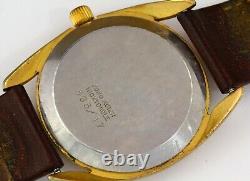 Vintage Collectible Rare Swiss Men's Wristwatch Creation 17JGold Plated Watch. CONDITION (10-point scale): 8-9 from 10. The case is in good condition. There are scratches on the back of the lid. The dial is in excellent condition. All Antique watches are mechanical. Many repairs will not be cheap, as most likely they will require replacement of non-standard parts (unlike most late model watches). Antique watches should not be beaten or dropped - because repairs may be expensive. Antique watches are generally NOT waterproof. This is because waterproofing was not in general production until the middle of the 20th century for most watches. Therefore you should protect your antique watch from exposure to moisture. If your watch becomes wet it should be dried off quickly.
Carefully open all covers and use a hair drier to blow dry the movement, dial, covers, crown. This will reduce the amount of rust. If your watch becomes wet with any kind of salt water you should immediately immerse or spray your watch with fresh (no-salt) water to remove all the salt from the works before drying the watch completely.
Any salt left in the watch will combine with moisture in the air to rust metal components of the movement, case etc. Winding any mechanical watch tight may break the mainspring. If you can avoid it do not wind the watch hard.
When adjusting the hands of your watch, move them in a clockwise direction only. Counter-clockwise adjustments may damage the movement. It is desirable to adjust the hands of your watch at the same time every day.
An automatic or self-winding watch should be worn for at least 8 hours a day. It is a mechanical watch in which the mainspring is wound automatically as a result of natural motion of the wearer's arm, to provide energy to run the watch, making manual winding unnecessary. If you must adjust counter-clockwise make it for small adjustments only i.
Be careful and gentle when adjusting the movement speed (faster or slower). Don't make sharp movements, and don't touch other components in the movement especially the pendulum mechanism. Every 2-3 years it is necessary to service and oil vintage watches. If the course of your watches is worsening and the accuracy of the reduction in the duration of the clock (autonomy) from one fully wound spring - it need a service.
IF the watch is dirty - allow the watch to run down, don't wind it again until you have it serviced by a qualified watch repair expert. Dust will absorb and remove important lubricants and cause the movement pieces to wear down. To clean the case, dial and crystal you should use a cloth that does NOT leave fibers as these may get caught up in the movement. Check with your Watch repair expert to get an appropriate cloth. Keep your antiques watch away from magnets. Strong magnetic fields may affect the accuracy of your watch since some vintage watches were made with iron based components in the movement. Most Cases and Covers are fine components and will not handle abuse well.
The watch should not be shaken, beaten, or stressed. Antique watches generally experience an error of up to 5-7 minutes a day. Any accuracy of +- 5 minutes is very good.
Mechanical watch is not recommended to use for engage in extreme sports, and expose them to excessive vibration loads. Recoil force, which take on the clock, affect their reliability and precision. No matter how perfect was not anti-shock mechanism, there is always the chance of excessive load that details of the mechanism can not survive.
It is not recommended to adjust, the date between 20.00 and 06.00, because at this time involved a mechanism for automatic adjustment date. Translation pointers calendars manually in this position arrows may damage the mechanism. Date changes should be made, relegating pre-clockwise to lower sector of the dial for example, to position 6 (18.00) hours. In most cases, these watches contain the "start/stop" button and "reset" button. It is strongly recommended not to press the "reset" if the chronograph is running.
Before you use the "Reset" button need to stop the chronograph by button "start/stop". Using the "reset" when running chronograph can damage the mechanism of most models of watches. In spite of delays all our previous lots have been successfully delivered! The item will be packed very carefully! It is impossible to address issues if we do not know about them!
Thank you for your interest in our products! Please let me know if you have any questions.

---